Organisation is ramping up with some important deadlines looming for those of us behind the scenes as well as one for anyone thinking about ordering event merchandise.
All pre-orders for merchandise must be in by 31st May. As well as O-tops, there are t-shirts, buffs, race clips and a handy "gym" bag for your O-kit. If you have entered but not ordered kit then you can still do this via Fabian4 by creating a new entry and by-passing the days/courses and scrolling down to other services, making your choice and then paying. This is the only way to be certain of getting what you want as although we will order a few extras, we will not be doing any post event order.
The full merchandise catalogue is available here. These pre-orders can be collected at Forres Town Hall on Saturday 29th July or at the Information tent in the Arena thereafter, along with any merchandise available to buy.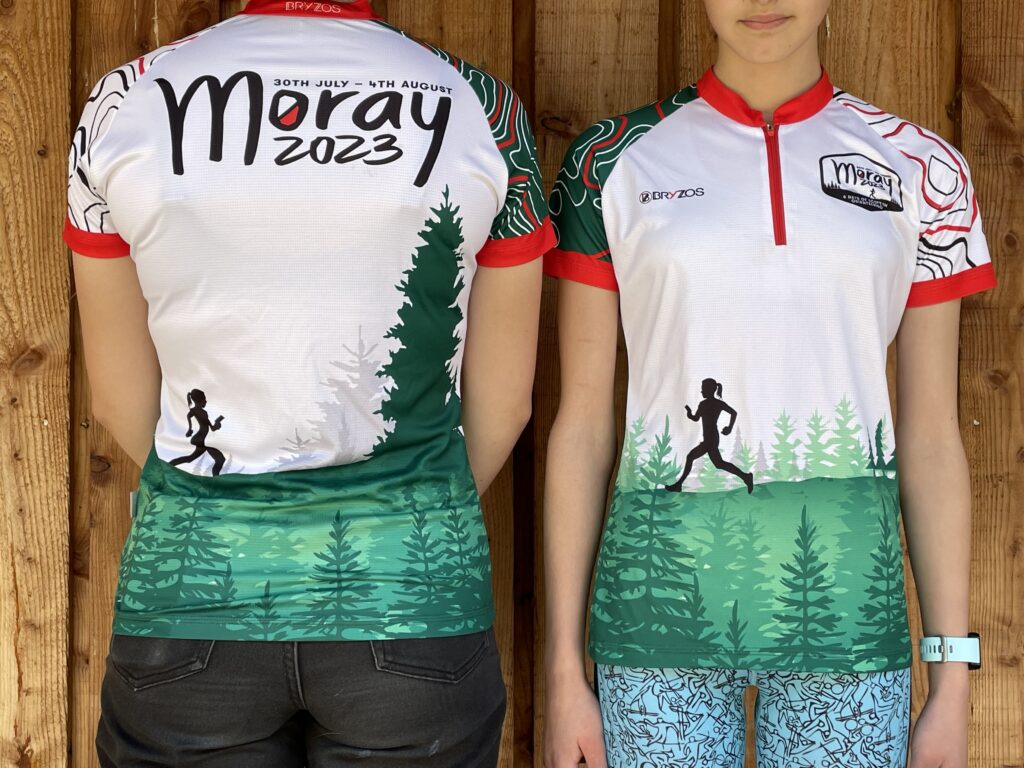 So far we have over 3000 entries from twenty countries with competitors from eleven different nations entered for the World Ranking Event on Day 2 in Darnaway. We locals are excited to be able to share our wonderful forests with you and you can read a bit more about each area in the separate news entries.
Many of you will be glad to hear that the coasters are on order after being sadly missed last time! Medals have also been ordered and we are pleased to announce that Macleans Highland Bakery from Forres is sponsoring some podium goodies.
Final tweaks are being made to the maps to reflect the forestry working that inevitably happens over the winter months and once that is complete, draft proofs for all the courses will be printed for checking.
I have mentioned before that due to location of arenas on all but Day 2, we are unable to provide commentary (variously – remote finish, landowner permission and residences adjacent to the arena). However, we will have commentary for the world ranking event on Day 2 and intend having GPS tracking that can be accessed on phones plus playback. Thanks to FVO for coming up trumps with the volunteers, expertise and necessary kit for this to be possible.
We can confirm the parking for all converted vans and motorhomes will be at Forres Academy for DAYS 3, 4 and 5 with bussing from there. Regretfully we have had to add Day 3 to the previously highlighted Days 4 and 5, as we were unable to secure permission for use of the land adjacent to the harbour and shorefront in Burghead for the number of these vehicles we expect (currently 151 registered on Fabian4). As a campervan owner myself, I understand how frustrating this is and more information will be added to the website to enable you to plan your day(s), including cycling options and a very limited public transport option from Elgin; car sharing is also an option.
The social programme continues to develop, however if there is anyone with a good quiz up their sleeve who would like to add it to the programme, do get in touch! Tickets for all social programme events, including any free events, will be available at Forres Town Hall on Saturday afternoon and at the Information tent in the Arena thereafter!
We look forward to seeing you at the end of July
Elizabeth Furness
Event Coordinator