Day Reports
Day 1: Achagour
After some recent mixed weather Day 1 of the S6D at Achagour proved warm and pleasant and there was a real festive feeling in the race arena. At the request of the planners who had concerns over forestry operations further north the race was on to find a suitable new site that would still allow access to at least part of the mapped area. The solution was to shift everything south a few kilometres, and with many thanks to Anthony and Christopher Laing we gained permission for a large flat field that then dropped away down to a very convenient location for traders tents and the organisational structure of entries, information, download, first aid and more.
Many of the courses started in Belivat, an area visited at Moray 2013. The "new" area had the advantage of taking competitors into a wider variety of terrain types. After starting through some intricate moraine and vegetation detail courses went out across the marshes to cross a ditch via the choice of two specially constructed bouncy walkways. From Belivat the courses went into Moss-side, before many crossed the road to Achagour Fisheries and into the intricate and confusing field archery range. A cease fire was in operation, but runners would have been surprised by the numerous plastic animals set-out as targets. My own course headed out over a featureless and physically demanding area of bog and moorland, before heading past the fishing lakes (or possibly more correctly lochs in Scotland) and then into an area of forest plantation. Running across the planting lines was much harder than running with them. Courses then went through a final pleasant area of running before a mercifully short run across a grassy field to the finish line. Commentary was provided by well-known Nopesporter "Mad" Mike, sitting in the rather fetching commentary box advertising our next event, Deeside 2017.
As always things were not all perfect, and there is a learning curve for suppliers and sub-contractors who need to provide for orienteers. Double the normal quantity of toilet paper had already been supplied to the Portaloos, but seemingly this is not enough so I have asked for an increase in volume. For the first time we decided to contract out campsite operations, but orienteers must be fastidious in their habits as they have already filled the waste water containers. There is no drainage on site, so everything needs to be collected and pumped into the River Ness (no – that bit was made up). Hopefully conditions will improve, and please accept our apologies. I do understand the fairy lights look nice, and the marquee should be great for social events.
Day 2: Strathfarrar
Glen Strathfarrar is best known to Munro "baggers" as a quiet and rather secretive glen, with strict access controls and only 25 vehicles allowed into the area on any one day (when not closed). Coupled with the fact there was a 35 metre river running through it with frequent and alarming rises of water from the Culligran Power Station it seemed that this would be the least likely venue for an event attracting over 5,000 competitors.
The private road stretches out 14 miles and initially we scoped out parts of the glen with Caledonian Forest for the WOC Long Race. I made contact with Frank Spencer-Nairn and his wife Juliet at Culligran (his house was behind the race arena) and eventually managed to put over the positive aspects of the event and the good nature of orienteers and get the essential green light. The rough and tough birch forest to the north of the river was never going to support junior courses or the categories just a bit older than myself so an exploration was made to the south side, managed by Mike Spencer-Nairn.
As a former Royal Engineer, including time spent in an Amphibious Unit in Germany, the challenge of crossing the river not once but twice was too good to resist. Planner Martin Wilson wisely decided a "remote" finish on the south bank made sense, and all I had to do was bridge the gap. The costs of a 35 metre clear span bridge was astronomic so commercial options for floating bridges were explored. The end solution was not an Army bridge, but sections of floating walkways from a fish farm supplied by Marine Harvest (and facilitated by Akva). Getting the Army on board is a whole chapter in itself, but we were delighted to be supported by Royal Engineers from 71 Engineer Regiment (Reserve) and their American colleagues from the South Dakota National Guard. Throwing up a 10 metre bridge on gabion baskets further upstream was another simple but labour intensive task.
The whole exercise nearly came to a grinding halt with the issues of getting 2000 cars into a field made slick by continuous overnight rain. We are indebted to Erchless Estate represented by Peter Sinclair-Knipe and agricultural tenants Willie and Hilary Birnie (who we have to thank for Friday and Saturday). Maureen on the gate has seen more people today than she is used to in 6 months!
As to the orienteering – was it any good? It's a hard one for me to answer as I didn't get the chance to run out there. Comments I heard were all very positive and even the bracken, a cause for concern was perhaps not as bad as anticipated. Several bracken bashing sessions were held in early June to try and keep the fronds from developing and it is understood that this was partially successful. It would be a great venue earlier in the year. I have had the pleasure to see Strathfarrar in all seasons, and know for sure that ticks abound and midges can appear. Make sure you check yourself thoroughly before jumping into your beds.
At this stage it is appropriate to point out the hard work being done by Limelight Event Services – these are the crew who largely behind the scenes are putting together the impressive WOC arenas as well as Scottish 6 Day arenas to match. One innovation this year has been the quiet running generators – one for IT and one supplying all the power to the traders. The only thing to shout over now is the commentary!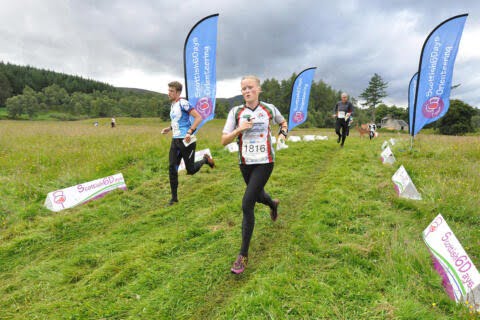 Day 3: Darnaway
The first of the really big days – a combined race arena encompassing both WOC and the Scottish 6 days. From an early stage we set out an event programme with a few key elements:
a. Minimise arena moves
b. Let S6D competitors have the chance to run on all WOC terrain
c. Provide locations that best met EventScotland's The Perfect Stage ideals
The support received from Lord Moray and his staff at Moray Estates has been fantastic – the upgraded road, trees cleared, fences dropped, grass grown and cut, routes through the barley, routes through the oilseed rape and of course the superb backdrop of the castle now complete with flag. There's now another tick in the I-Spy Scottish Castles book.
Today's main race (the Scottish 6 Days of course) used yesterday's Middle Race area. A decision was taken some time ago to stage a Middle race – though there is excellent forest further south this is also one of the few remaining refuges of Tetrao urogallus, loved by many orienteers and better known as capercaillie. This restricted the area in which we could freely range, but for many of us weary from other activities I think running a few kilometres less was a great relief. The map (at 1:7500 scale) was derived from LiDAR survey and many of the issues from the original map of 1976 (such as the river flowing uphill) were finally resolved and the occasional hill moved around. I found the clarity of the map superb, but like everyone else found myself constantly ducking under the vegetation and trying to stop sticks poking me in the eye. It is interesting to compare our maps with WOC – look at how green screen comes and goes. Horses for courses. I really enjoyed the area, and it was delightful in some parts of the forest. The planners would like to point out that the enforced run across the oilseed rape was not their preferred option, but it was an inevitable consequence of trying to squeeze the two races together with athletes walking from quarantine to their start line through the best finish area. The run-in from control 100 was mercifully short, and we did decide to move the full S6D infrastructure into this part of the field.
How we fitted in 2000 + cars into the area was a minor miracle and we still allowed space for a rather fine traders' village with a great selection of food vendors and equipment traders. I hope nobody is still trying to get out with the long queues over the trackway. Getting in was an even bigger issue – there was a serious accident (fortunately nobody injured) on the right turn off the A96 near Brodie. Foreign drivers please take care! There were incorrect travel reports put out on the radio, and many tried to beat the system coming down the back roads only to discover the route was clear and running smoothly. Please stick to the approved route – I don't care what the lady on your SatNav thinks but you must not approach via Redstone or the small road by Earlsmill. She doesn't know better than us.
We look forward to seeing you back tomorrow.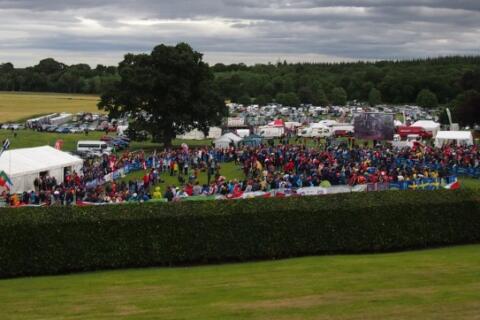 Day 4: Darnaway
What a fantastic area we all ran on today. We were under a lot of pressure with the overnight rain which made driving over the end of the trackway a bit hazardous. Too high for some low slung vehicles. We had always planned to use the WOC Relay area but we ran back into the field where they ran out. The crossing point was very obvious, as the estate had to take out a 150 foot high beech tree suffering from a fungal disease that can cause sudden collapse. I hope you enjoyed yet another bridge – not a 36 metre floating one but a springy 6 metre ditch crossing on the green and white start. One more bridge to go!
The area was an absolute delight and I managed an improvement of 50 places so it must be good. Lots of great contours to follow. Our thanks go to Alba Traffic Management (and assistance from Kevin Price at Moray Council) for the road closure that let everyone run across linking different sections of forest. It is reported that the tree near Control 100 was actually an ent and it moved away from the control flags in the night. Note that we try and use 100 as a common last control whenever possible at the Scottish 6 Days.
I enjoyed tea and scones in the castle and am off to the IOF banquet tonight so by necessity this report is short.
Day 5: Glen Affric
WOC is finally over and I hope it is recognised that without the Scottish 6 Days it could not have happened. I can breathe a sigh of relief as Assistant Director that at least WOC has been the great success we had all wished for. Thierry "King of the Forest (and Mountain)" again. Today's report must give a special mention to the S6D Event Coordinator Richard Oxlade – along with the day organisers, farmer Willie Birnie and landowner Donald Fraser at Guisachan, Richard helped pull together a cunning plan that allowed everyone in and everyone out of the Day 5 race arena.
Last edited: 07th Aug
The traffic count in the main field was 1,300 so the other 800 fitted in elsewhere including a temporary campervan park (with some of you possibly overnighting there). The predicted chaos didn't happen, but there are some dark clouds on Saturday's forecast. Thanks to all the volunteers who helped the plan work.
Last September a magnificent bridge was built about a mile away from the arena, but in the end to avoid conflict with cars this was not used for the main event. Another Royal Engineer bridge built from a fish farm walkway was used for two way pedestrian traffic, carefully avoiding an important ecological site. Can we stress to some people that if there is a bit of double tape with a sign saying No Entry to Orienteers we actually mean it. The area used today had been used in 1999 for a WOC Qualification race but the bad storms of the winter and some major windblow coupled with the wet weather since around October 2014 made it tough going. There were some fairly dramatic descents and ascents traversing across the area but I did laugh as I plunged waist deep into a river washing off the mud from having previously been wallowing in a marsh. The tough nature of the a rea was reflected in the number of competitors seeking assistance at British Red Cross. Today's count was around 45, significantly up on the more gentle Darnaway days. First aiders love our events – where else are you virtually guaranteed such a range of injuries to deal with? I think the injury count will be down tomorrow.
Special thanks go to the landowners Alex Grigg and Nigel Fraser, and of course the Forestry Commission Scotland who have been extremely helpful carrying out various improvements in the area. Andrew Castell kindly strimmed a path through his garden so we all made it up and down to the river in relative comfort. I hope you all enjoy the final day and remember to put Deeside 2017 in your forward planners.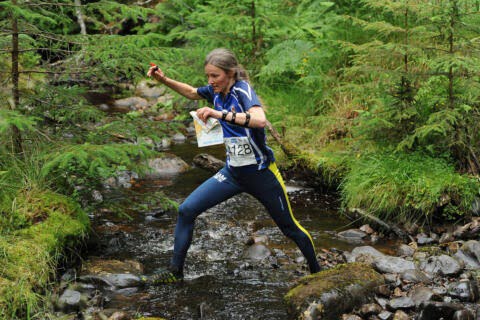 Day 6: Glen Affric
They think it's all over – it is now, it's six. Another excellent day at Glen Affric, with an amended parking plan following some unexpected issues as the last orienteers left through Tomich on Day 5. Apologies go to those who were a long way from the arena in the Tomich Hotel car park but hopefully with flexibility at the starts you enjoyed your runs over some world-class terrain.
Almost exactly three years ago I first set foot on the area that was to be used for the WOC Long race. Initial plans were to use some of the ancient Caledonian Pinewood higher up Glen Strathfarrar but too much of this area was too tough – even Thierry might have struggled. Technical Director Graham McIntyre and Mike Stewart had decided to run along from the west end of Glen Affric "proper" and so a new area was found.Conveniently this joined on to the area previously used in 1999 but offered the choice of some very different courses. Eventually we settled on the Wester Knockfin field as the race arena, and from there it was a simple matter of sorting multiple permissions, building a couple of bridges, mapping, planning, controlling and organising. The Day 5 organiser asks me to apologise for missing the fence and ditch crossing for the Day 5 string course – our future World Champions.
It's nearly over though there are still around 40 Portaloos, 250 ground protection mats, 45 HERAS panels, 275 crowd barriers and other infrastructure to remove, clean and return. Day 6 was another great experience, enhanced by the presence of the big screen and the WOC finish gantry so that you, the Scottish 6 Days competitor, realise that you are very important to us in Scottish Orienteering and not a sideshow to the other event. We look forward to many of you returning to some wonderful locations in Deeside 2017. Jon Musgrave, Event Coordinator, assured us that there are no midges and the fields will be covered in tarmac.
Videos