Day Reports
Day 1: Dunollie and Dunstaffnage
Day 1 of the Scottish 6 Day was a great opener, with competitors on the majority of courses starting on the beach before running up into the bog myrtle and more complex areas of green and white. Courses ran right up to the northern edge of Oban, hidden from view by some magnificent beech trees. FVO and TAY had the honour of organising the first day, putting into practice what the 6 Day Company has been planning for the past few years. Organiser Louise Longhirst (FVO) did a great job, supported by the Central Organising Team. 1,250 cars were parked, Red Cross treated 25 minor casualties and back at the campsite nearly 200 tents were moved into three fields.
Oli Johnson won the M21E by a comfortable 37 seconds, and Anna Forsberg of OK Kolmarden, one of a huge Swedish contingent, took first place on the W21E by just 9 seconds. In the UK Masters Cup the only class leaders to win at Oban were Charlie Adams (M45) and Alice Bedwell (W50). Eileen Bedwell made it a family double by winning W80.
Day 2: Ardnaskie
Overnight rain and mist meant that Day 2 was going to be a very wet experience. Controller Dave Kershaw went through 4 sets of orienteering gear in the course of the day in a vain attempt to keep dry. The day itself was overcast but dry, and despite the conditions surprisingly free of midges. The terrain was more complex than Day 1, with some quite long times achieved by a number of competitors. By 1630 hrs, course closing time, three competitors were still unaccounted for and a "missing competitor" plan was swinging into action. Fortunately all three turned up safe and well. At least one competitor was sucked into a bog, and Nigel Bush described how 5 runners had to pull him out as he couldn't move. Fortunately his O-shoes remained on his feet.
Oli Johnson again won M21E, but Alasdair McLeod (EUOC) and Patrik Martner (IFK Goteborg) were joint second place just one second down! Asa Lindqvist won W21E, just ahead of Jenny Johansson who is a very strong contender for this year's event. Peter Bray (SN) and Rosie Watson (WCOC) were leaders in the Future Champions Cup M/W18, and Thomas Fellbaum (MDOC) and Julia Blomquist (BAOC) took the honours in M/W20.
GPS units, supported with funding by EventScotland, were deployed on a number of volunteers from FVO, EckO and ELO. Playback of their routes may now be possible on Day 3's big screen, and the SOA Professional Officer really hopes that they don't show his attempts to locate control 10.
Day 3: Creag Mhic Chailein
Creag Mhic is one of the West Coast's finest areas and competitors today were challenged mentally and physically but rewarded with wonderful views over Lorn and the surrounding mountains. Thanks to help from EventScotland we managed a first in British Orienteering – GPS tracking and live footage of runners displayed on a massive 6×5 metre "big screen" provided by Racing Scotland. Technical gurus Brian Bullen and Ted Finch (both FVO) worked closely with suppliers Eseye and TracTrac (Denmark) to come up with a working system despite potential problems of poor GPRS (mobile) signal and having to link up to a local resident's home broadband to allow connection to the server in Denmark!
The commentary team of Wolfgang Poetsch plus volunteers Mike Edwards and Mick Lucking were kept busy with a constant flow of information from radio controls, finish boxes and GPS tracks, but everything came together and Margaret Dalgleish (ESOC) is to be congratulated on staging a great event. One of our greatest fears had been crossing the busy A85 from parking to assembly, but a hired set of traffic lights plus a contingent of Royal Military Police ensured all traffic stopped.
Oli Johnson won M21E yet again, but Claire Ward of ESOC came in with a clear 3 minute lead on W21E to beat winners of the previous two days. In other classes the favourites to win the Scottish 6 Day are starting to emerge. Tomorrow's rest day includes mountain bike orienteering and sprint racing, but hopefully competitors will leave enough energy to tackle day 4 at Torinturk.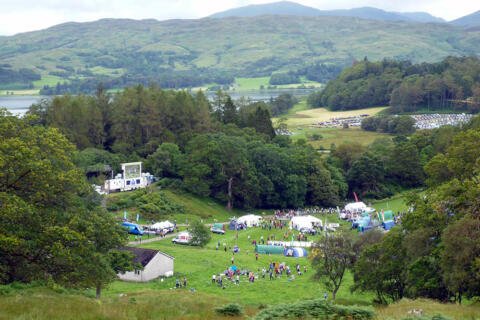 Day 4: Torinturk
Day 4 was contested over an area new to orienteering – Torinturk in Glen Lonan. Technically the area was easier than the preceding days, but there were some very long and tough courses that favoured the lighter runner and fleet-of-foot. Challenges facing the organising team included access by single track road of over 1,000 cars and a small fleet of buses bringing campers and campervan competitors. The first bus to arrive informed us that he was unable to proceed around the "one way system" as there was a 3 ton weight limit sign on the bridge after the drop off point. Farmer John Cameron saved the day when he announced that the restriction had been lifted 5 years ago and that lorries including the Council refuse truck regularly used the route.
Another logistical problem was what to do if the River Lonan went into spate in heavy rain – 3,500 competitors would have been on one side of the river but the last control and run-in was on the other side. Thanks to funding from the Argyll & Bute LEADER programme we had already put in place a magnificent permanent footbridge spanning 16 metres and supported high above the burn on a new pier. Trakmats were laid along the bridge to protect it from thousands of "dobs" (spikes) and the same mats proved useful extracting cars out of the slippery fields on what has been the first really damp day.
Oli Johnson has proved the clear winner of M21E over the past 4 days, and Jenny Johannsen seems set to win W21E. Oli is now heading off for his World Championships preparations.
Day 5: Lochnell and Shenavallie
Day 5 moved back to the seaside on the peninsula at Loch Nell and Shenavallie. After negotiating knee to waist deep bogs in places competitors were rewarded with a run along the beach and some magnificent views across to the Island of Mull. Rocky forested outcrops were accessed over what appeared to be a very "blue" map and these provided more technical and interesting orienteering challenges.
The major talking point of the day had been the logistics of travel. At the eleventh hour a cunning plan was hatched including bussing of competitors to relieve pressure on the car parking fields. A novel return route was offered – either back on the bus or cross the estuary using the ancient ford across the mudflats. Our resident oceanographer assured us the tide would be out and everybody crossed safely. Many thanks go to CLYDE who managed a complex transport plan. Another area of concern was the single lane bridge to North Connel and the phasing of lights. Fortunately traffic didn't seem to build up too badly, and those crossing the bridge were treated to the spectacular sight of the Falls of Lora.
Entertainment was provided in the assembly area when competitors arrived to find the Portaloo lorry bogged in up to the axles – with volunteer help by Roger Jackson (WCOC) driving a tractor and farmer Duncan Buchanan the unfortunate vehicle was eventually freed from its' predicament much to the relief of the expanding loo queue.
Alasdair McLeod of EUOC won M21E, and with Oli not competing over the final two days he seems certain to win overall. Cecilia Bratt (W45 from Sweden) showed age was no barrier to win W21E comfortably. The eventual winner will however be either Anna Forsberg or Jenny Johansson (both from Sweden). There has been a very large and appreciative crowd of orienteers from Sweden, and we hope they will return if we are successful with our WOC2015 bid.
Day 6: Ardchattan
The final day of the Scottish 6 Day was held on the open runnable moorland of Ardchattan. With a 190 metre climb to the starts we were all warmed up before the race, but of course this meant less climb during the competition itself. The first part of the course was littered with unmarked boulders, but it soon became apparent only significant boulders (about the size of a small car) needed mapping as there was a wealth of other usable detail including hills, spurs and re-entrants.
The organisation was excellent, and thanks to a one way traffic system coming in from the north of the area there were no reports of significant delays. The last of the excellent day newsletters (the "Oban Observer") were handed out, along with a promotional leaflet for next year's JK2012 in Highland Perthshire, Scotland.
Final positions were decided on today's races, but a number of competitors already had unassailable leads. Alasdair McLeod won the M21E as expected, as did Jenny Johannson in W21E. The only shower of the day fell on the prize giving ceremony, but was soon followed by blue sky as teams packed up and loaded Stewart Durham's fleet of 4x4s and lorries prior to transportation back to Scotland's National Orienteering Centre. Praise for the event was almost universal, and we hope to see competitors from across the world back for Moray 2013.